MiPHY survey: Local youth substance use snapshot available in new survey report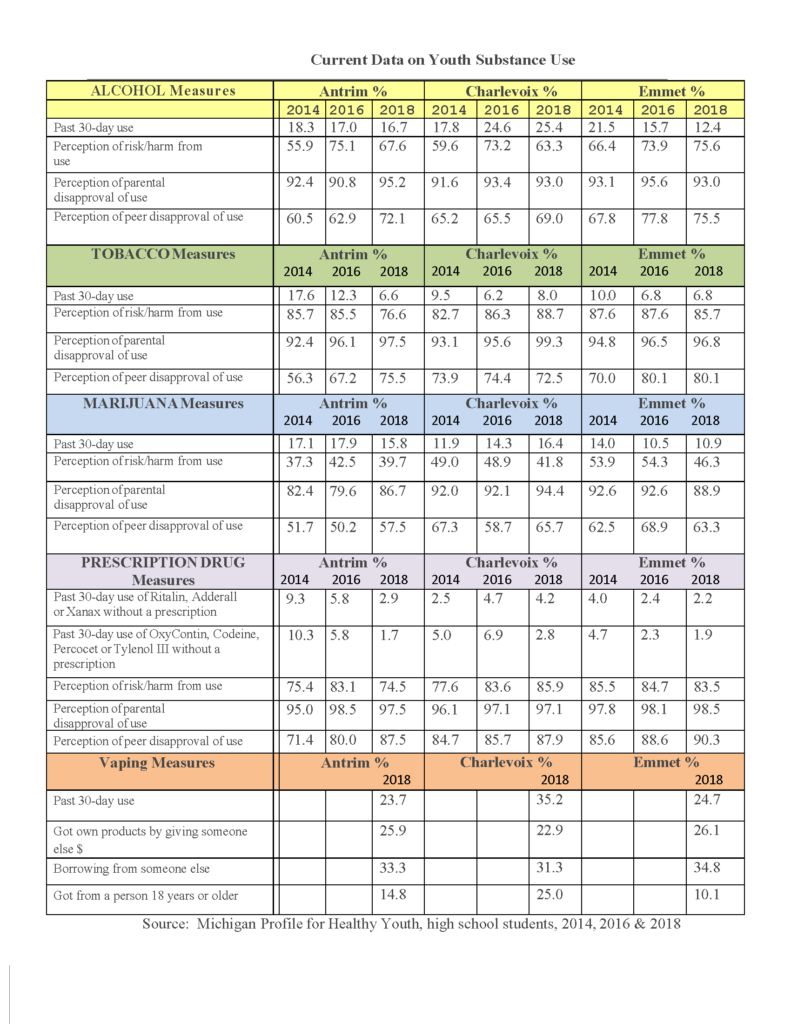 Newly released survey results about youth substance use – including marijuana, alcohol, vaping and prescription drugs – provides a snapshot of teen behaviors in Antrim, Charlevoix and Emmet counties.
The Michigan Profile for Healthy Youth (MiPHY) survey, developed by the Michigan Department of Education, was administered to students in grades 7, 9 and 11 in local school districts during the 2017-18 school year. Not all school districts participate, but those who do help to compile a glimpse into substance-use concerns for preteens and teens.
The anonymous survey asks students to identify which substances they have used within the past 30 days of the survey.
The results from last year show:
– Underage drinking in the past 30 days continues to decrease in Antrim and Emmet Counties. Charlevoix County youth drinking stayed nearly steady. In Antrim County, 16.7 percent of students reported drinking alcohol in the prior 30 days; in Emmet County, the rate is 12.4 percent; 25.4 percent of Charlevoix County's youth reported alcohol use.
– Tobacco use continues to decrease in Antrim County, by nearly half, from 12.3 percent to 6.6 percent; Emmet County's rate remained steady, at 6.8 percent. Charlevoix County tobacco use increased from 6.2 to 8 percent.
In a new category, the emerging concern of vaping was addressed. The number of youth reporting they have vaped in the last 30 days "is alarmingly high," according to Susan Pulaski, Community Health Coordinator for the Health Department of Northwest Michigan and Project Coordinator with SAFE in Northern Michigan, a local collaboration of community leaders from various sectors – health, police, education, faith-based, business, parents, health care – working to combat youth substance use in regional communities.
The vaping numbers show that in the past 30 days:
– 23.7 percent of Antrim high school youth have vaped.
– 35.2 percent of Charlevoix high school youth have vaped.
– 24.7 percent of Emmet high school youth have vaped.
Most of the teens report that they are borrowing someone else's vape device, typically a person 18 or older.
"It's really concerning," said Pulaski. "I think those numbers are very high."
Vaping has become a growing topic of concern among local school district officials and the SAFE collaborative members. In the past year, SAFE initiated an "Escape the Vape" campaign that provided local teens with information about the harmful and addictive chemicals in vaping. The campaign also worked to help counteract the widespread youth belief that "vaping is just water," Pulaski noted.
"This is an issue that SAFE will continue to address through our videos and through our campaigns that utilize digital media, TV, movie theater ads, radio and social media," Pulaski said. "In fact, these survey results will spur us to dig in further and continue to find ways to reach our youth with these important messages."
Another area of concern Pulaski noted is a decrease in the perception of risk of harm with marijuana use in two counties. Two years ago, 49 percent of youth in Charlevoix County felt that marijuana was a risk of harm; that number dropped to 42 percent. The drop was greater in Emmet County; in the 2016 survey, 54 percent of Emmet youth believed marijuana to present risk and harm; in 2018, that dropped to 46 percent. Antrim County presented the slightest decrease, from 42 to 40 percent perceiving harm by using marijuana.
"Those numbers are decreasing and this is the one category where we want to see an increase," Pulaski noted. "Research states that when the perception of risk goes down, the increase in use rises."
Perception of risk of harm for use of alcohol, tobacco and prescription drugs were more steady to the prior survey across all three counties.
Overall, youth marijuana use in Antrim saw a slight decline; Charlevoix use rose slightly; and Emmet held steady. Prescription drug misuse remains low across all three counties.
The Michigan Profile for Healthy Youth (MiPHY) is an online student health survey offered by the Michigan Departments of Education and Health and Human Services to support local and regional needs assessment. The MiPHY provides student results on health risk behaviors including substance use, violence, physical activity, nutrition, sexual behavior, and emotional health in grades 7, 9, and 11. The survey also measures risk and protective factors most predictive of alcohol, tobacco, and other drug use and violence. MiPHY results, along with other school-reported data, help schools make data-driven decisions to improve prevention and health promotion programming.
SAFE continues to encourage local school districts to have their students complete the surveys every two years, because of the value in the data to help develop strategies to combat substance use among local students, Pulaski added.
2014-2018 MIPHY Data including Vaping